This foundry was the ancestral home of the Blackrock orcs, wherein master smiths smelted and worked the impossibly hard ore that is the clan's namesake. Now, massive giants captured and broken by the Thunderlord heat the great forges, flamebenders of the Burning Blade imbue the ore with an inner fire, and engineers shape the slag according to otherworldly schematics. Warlord Blackhand's foundry is the center of the Iron Horde's military might, churning out the weaponry that will be used to raze Azeroth.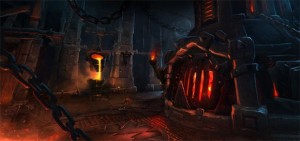 How sad it seems to see an old foe known in our time as the Dragonkiller now relegated to a slave.
Garrosh knew that the surest path to breaking the gronn lay in subjugating their great father, Gruul. Known in another time as the Dragonkiller, here Gruul has been reduced to the role of menial laborer. In a cruel mockery of the Shattered Hand's warrior tradition, his hand has been replaced with a hook to enable him to more easily haul pallets of fuel to the furnace.

As Gronn are not known for their diplomatic reasoning, the idea of negotiating with Gruul to join us against the Thunderlord Clan and the Iron Horde seemed pointless.  Our thought was proven accurate when the father of the Gronn immediately attacked with a fury, bringing new tactics to bear, as well as some many of us were familiar with already.  As in our time, Gruul was bested once again.  No longer a slave, but now a trophy for the Grim.