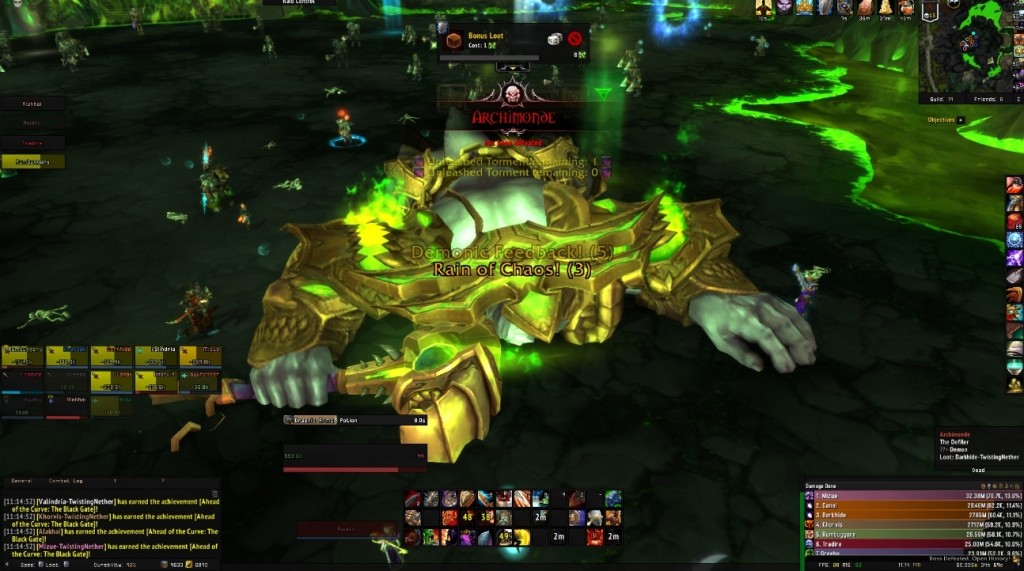 Anaie –
It is done. At long last, we believe Archimonde to be eliminated.
From the very body of Archimonde we rent a fragment of chaos – an object both horrific and alluring. We marveled over it, pondered its nature, its purpose… our purpose in dividing it from the Defiler.
It was Canai's suggestion that we seek out Malfurion; and I, for one, never discount the words of a druid. Our three druids aided our journey to Moonglade – Canai, Darkhide and Swifthoof. I thank them for this, as I had yet to marvel over this serene valley. I hope the druids remain so welcoming, as I would like to visit Moonglade more often. Just as I learned to wield a shield, maybe I can learn from them.
I could sense that under the welcoming façade, they were in fact highly concerned about this nebulous chaos we brought with us. A slender female troll gasped and immediately motioned for us to follow her. She took us directly to Malfurion and presented us by name. I should be more accustomed to our infamy by now. The Archdruid led us to the water, silent as he regarded the chaos fragment we ushered with us. After many wordless minutes, he broke his silence.
Malfurion told us that the power within that fragment was one he had previously encountered within the Emerald Dream. I found it puzzling that a place of Dream would bear the brunt of such true evil, but the Archdruid was insistent. He had believed that they had sealed it away – but he gave no details on whom the "we" in question was. Now he is concerned that the Legion have their hands upon this power.
Too little, too late.
At that point Malfurion parted ways with us, saying that he needed to hurry to Val'sharah. I find myself wondering if this Val'sharah is as lovely a place as the Moonglade?
Before we could leave, Keeper Remulos flagged us down. He apologized for Malfurion's abrupt departure and thanked us for bringing the fragment to them. His voice was heavy with concern as he spoke of the fragment being a portent of what is to come. He called us heroes; I corrected him by saying we were working under the banner of the Mandate. Some might view us as heroes, but we're simply doing what we do best: Peace Through Annihilation.
After we departed back to Draenor, we received word that the druids had gifts awaiting us at the garrison. There we found a herd of Grove Warden, each tagged with the name of members of the Ironbreakers.
I have included an engineered rendering of us all. Rumbuggery may be tied to his saddle to sit upright.
– Bladedancer Alakhai Snowflower