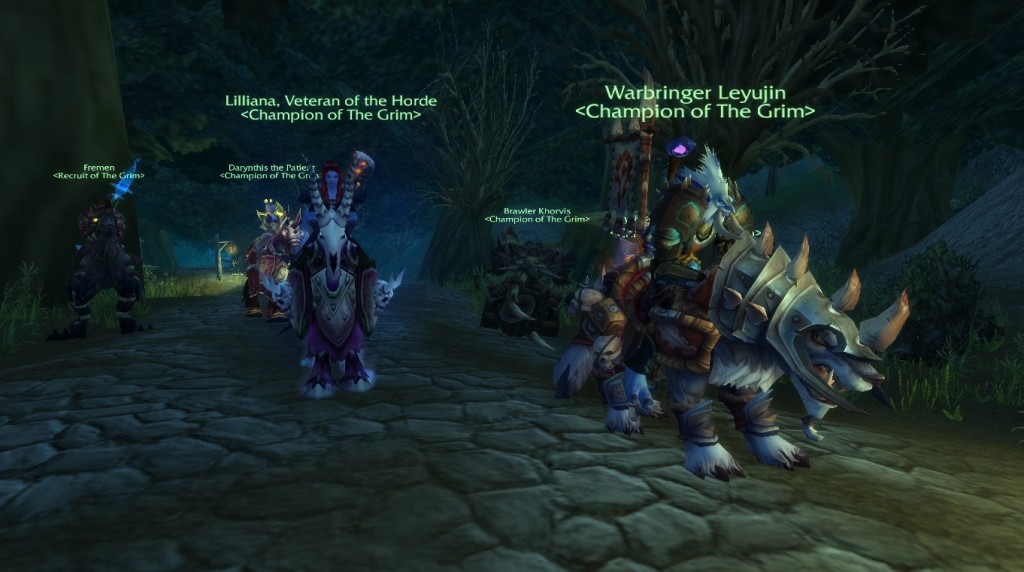 On Friday, May 6th, The Grim gathered before Awatu Stonespire to discuss the accomplishments of the past month. "Once more, another season is upon us. The chill of winter is finally past us and life blooms in this season of growth," Awatu told them. "We have seen a resurgence among our numbers. More Supplicants flock to our call, seeking the true end of our conflict. We welcome this new season. We grow stronger. We march ever onwards."
Anaie spoke of the Ironbreakers progress within the Citadel. With the increase in numbers, between Supplicants and returning members, little stands between The Grim and victory. "Only the demon lord o'Hellfiah Citadel remains before us, guardin da Black Gate," Anaie reported. Anyone interested in assisting the Ironbreakers within Hellfire Citadel should speak to Anaie or Alakhai.
There is also a need for extra provisions to supply the Ironbreakers efforts.  "If you be 'avin any extra materials dat can be of use in da fight, please be providin dem to da Guild vault. It's been a long battle and supplies get stretched," said Anaie. "Food an alchemical assistance are always of use."
Khorvis was next to speak, telling of the recent advancements of the Inquisition. There have been quite a few supplicants recently, keeping the inquisitors busy. This month, the Mandate honors past ancestors. "This dark month of May, the Mandate travels to the different graves of past times. The Inquisition will come to know what Death means to our ranks and our ancestors." He announced. "All Grim do be invited to spread the word with us."
This month, Khorvis and his Inquisitors will be holding office hours in places such as Ghost Walker Post in Desolace, Galakrond's Rest in Dragonblight and Brill Cemetary in Tirisfal Glades.
Leyu'jin brought news from the frontlines of the battlefields against the Alliance. "In da battlegrounds, we continue ta gain ground." He announced, before turning his focus to the newer members. "Ah know der be not a few supplicants who hav' joined our ranks, dat wish ta battle wit' us. Currently, we hav aboot 8 regulah soldjahs who fight in our Battlegrounds war group. We also hav' a rotatin' pool o' aboot 4-5 reserves. Luckily fo' joo youngbloods, der al'ays be a nite where we short despite everyting, an' dat's where JOO git yo' chance ta prove yo' worth ta da Mandate! Check da guild halls, we got lotsa infohmation hidin' out der, plus a place ta sign up yo' interest."
Leyu'jin also revealed that there will be a Fite Nite coming up, where those interested can join the fields of battle for a night of drunken bloodshed. Lupinum will be providing details and posting a date soon, so watch the guild hall for more.
In other news, there have been reports that several Alliance guilds were searching for a cure for Wreave. The Grim, led by Leyu'jin, attempted to thwart their efforts but were driven back in Darkshire. Perhaps on a related note, word has come that many in Rutilus Luna have fallen to demonic possession. They will be watched closely.. Aderlee and Gnitch have been instructed to investigate.