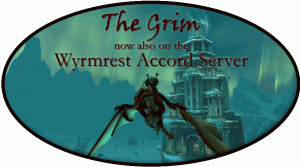 In the interest of expanding the population of roleplayers we have the opportunity to play with, The Grim has recently opened a branch of the guild on the Wyrmrest Accord server.  The Grim is still one guild, with one website & forums, one Mumble server, one Discord, one raid team, and one PVP team.  However, some of its members may reside on Wyrmrest Accord now instead of Twisting Nether/Ravenholdt.
Current Grim members are welcome to put an alt in the WrA branch of the guild as a Minion (simply write a Letter of Intent, as usual), or they can create a duplicate of their character on WrA who will be the same rank as the TN/RH character.   New members will all follow the existing application process, regardless of whether they reside on TN/RH or WrA.
The Grim is always open to new recruits.  We do currently have open spots on both the raid team and the PVP team.  If you're interested, please see the links in the "JOINING US" menu above.
Peace through annihilation!